KorComm's Online Review Management Service helps you gather new clients using superior review generation techniques and our online review management tool that make your business standout improving your overall online reputation management.
Reviews help attract customers and gain their trust. A well-developed review generation and management program can attract your target audience, drive traffic to your website and social media profiles all while growing your business. Our custom review generation campaigns will invite your clients to review your business, measure customer intent before reviews are posted, and earn more 5-star reviews to increase your bottom line.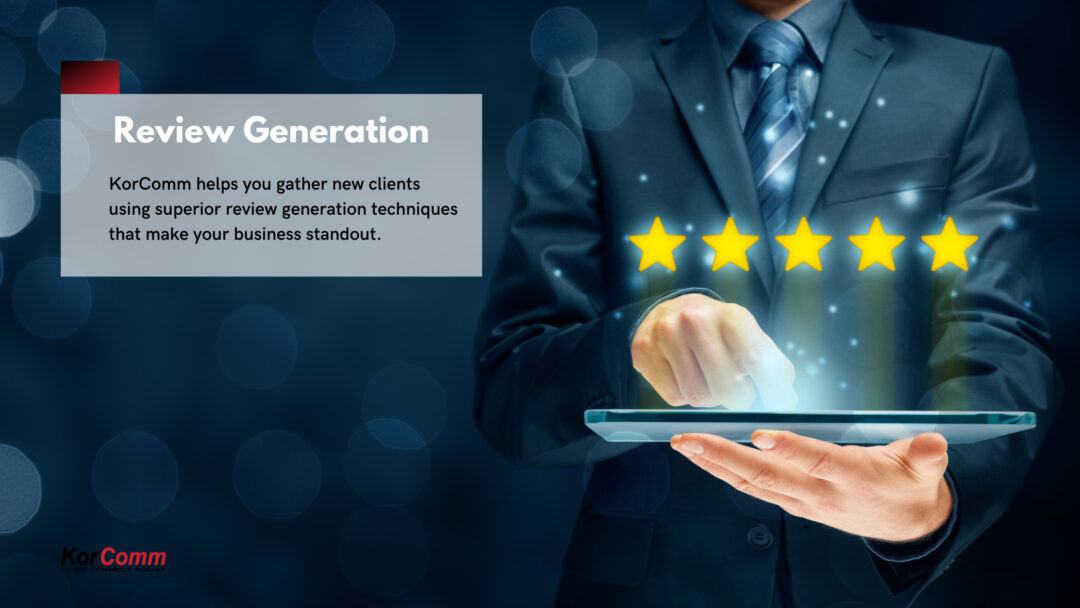 It's important for your business to have a good online reputation. One of the best ways to do this is to make sure you have solid reviews on your site. Good online reviews are an easy way to get more customers.
You can do this in a few ways. You can ask your past clients to leave reviews, you can find clients on review sites that are already verified, or you can seek out KorComm, a review generation professional to effectively manage your businesses online reviews.
Online reviews not only help build trust between your company and its customers, they also impact how consumers search for similar businesses. Search engines want to provide their users with the most relevant, trustworthy results on the first page of local search results, so they favor businesses that have a lot of high-quality online reviews. This means that product pages need to include review stats prominently, including a minimum number of stars, the average rating of all reviews, and where customers can leave more reviews.
Most importantly, these reviews help to boost the overall credibility of your product or service and by dominating the search results this will inspire consumers to trust your reviews above your competitors.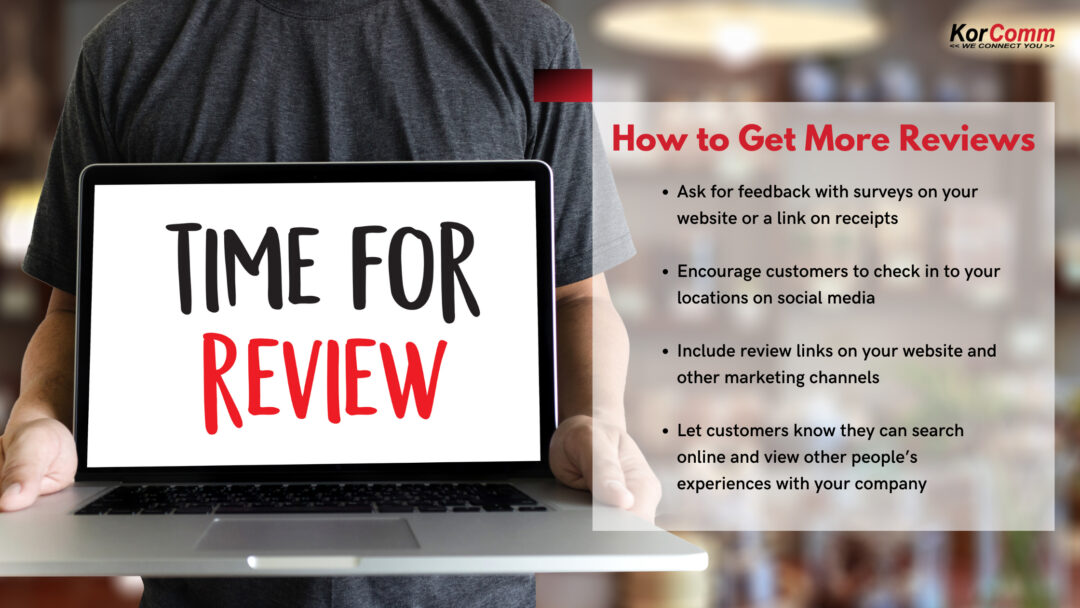 How to Get More Reviews With Our
Review Management Service
Ensure all of your organization's online listings are claimed
Ask for feedback with surveys on your website or a with link on receipts
Ask your customers in person to leave online reviews
Encourage customers to check-in to your locations on social media
Include review links on your website and other marketing channels
Let customers know they can search online and view other people's experiences with your company
Prominently show your review sites
There are ever changing rules regarding the solicitation of reviews to ensure authenticity and fairness. Before asking your customers for reviews, it is critical you understand the current best practices to avoid any problems.
Why Are Online Reviews So Important?
Online reviews are critical to solidify your expertise in your industry. Plus, potential customers often use reviews to decide on whether to choose one business over another.
Online reviews can also improve your website's search ranking. Google considers review count when deciding which website holds more authority in search. This makes reviews critical for improving your website's SEO.
KorComm offers online review management service as well as an online review management tool to help share your company's success while building brand awareness and loyalty. With this reputation management software we select review websites, platforms include Google and Bing in addition to industry-specific review websites including TripAdvisor, Yelp, Angie's List and more. We analyze and manage all online review websites so you don't have to.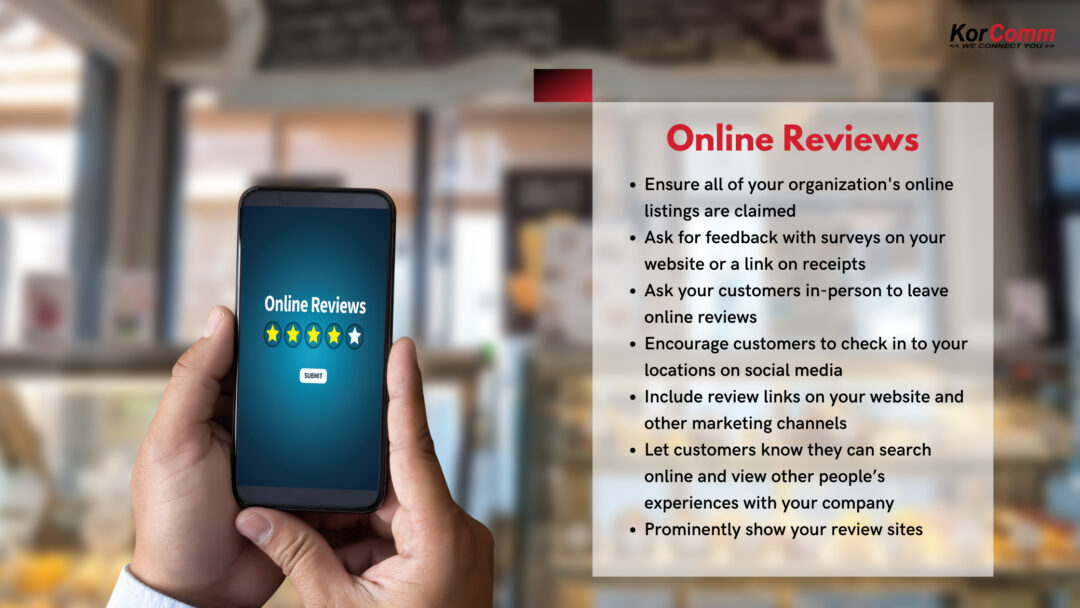 What happens if you get a bad review?
Keep calm and respond strong. By responding to negative reviews in a tactful and strategic way, this aids in potentially turning those frowns upside down.
A negative review empowers your company to learn, and learning from your customers is the best way to increase overall customer satisfaction. Negative online reviews are part and parcel of being in business today. Review sites recommend responding to complaints and addressing any issues as quickly as possible, since otherwise they can impact your company's bottom line and reputation.
Think about it from the other side. If you were unhappy from a bad experience with a business and they took the time to come in person and apologize while also telling you they would try their best to make things right, wouldn't that encourage you to trust them again and be willing to have another go of it with their product or service?
Review Generation Improves your Brand Reputation
There is no time like the present to start being proactive with your online reputation. If a picture paints a thousand words, imagine what effective online review generation and management will do for your business.
Our team will strategically implement the best plan of action to increase and manage your online reviews. We create a custom process to ensure we are generating high-quality reviews for your business seamlessly and effectively. We may reach out to your customers for a review by email, or send customers to your Yelp page. You can rest assured, your business is well-represented in cyberspace and beyond with our strong custom review generation plan.
KorComm's team of dedicated Review Management Service professionals are here to help you manage your online reputation, including those less than perfect reviews. We work diligently to ensure your business' reputation is intact. Responding to reviews is critical for your search engine rank, this includes the bad reviews too.
Boost Your Reputation & Establish Your Authority
It's normal for us to find a restaurant, hotel, or other business on Google or Facebook and immediately look at the reviews. Customers make decisions based on online reviews. That means, your potential customers are doing the same. With expert review generation management services by KorComm, we help you obtain and publish reviews to not only boost your reputation but establish your online brand dominance.
The practice of online review management is ever changing, complex and timely but most importantly an essential component to your online success.
KorComm is your one-stop shop for comprehensive online review management solutions. We understand you are busy running your business. Let KorComm support your business goals with expert social media management reinforcement.
In order for us to solve your business marketing needs, we need to understand your business, your goals, and your market space. Before we speak, we listen. And that's where we start… with you!
We offer a no-charge upfront consultation to get to know your business and your online reputation then provide a customized review generation and management plan with your goals in mind. We analyze, design and implement custom online review generation and management campaigns to fit your unique sales and marketing situation. Let KorComm Online Review Management Service step in to wake up your slumbering online review management. Let's talk to explore your unique possibilities.
FAQs
Q: I have a verified Google Business listing, but little or no reviews.  Can you help?
A: Yes!  Our tool can connect to your Google Business listing (among other platforms) to help entice 4 and 5 star reviews.
Q: I'm hesitant to ask people for reviews to avoid a negative comment.  How can you prevent this?
A: Our tool gauges the intent of the review before it's posted.  What does this mean?  The user is presented a form if their intent is negative.  If their intent is positive, they will be presented with your various social profiles to leave a review.
Q: Will I be emailed reports?
A: Yes, daily.  This is regardless if the review is negative or positive.
Q: How are people sent a review?
A: Either e-mail, SMS, or both.  We can integrate our tool with your CMS to auto-send the e-mail/SMS.  Otherwise names are added to the system manually.
Q: Can I request reviews for multiple platforms?
A: You can, but keep in mind most people will only leave a review on one platform.  That said, we can pull reviews from Google and place it on Facebook (2-for-1 deal), instead of just getting that review on Facebook.
<< We Connect You >>
Let KorComm help you grow your business by focusing on the follow up and final nurturing of your qualified digital marketing leads.
Once a lead has entered your funnel and showing signs of serious interest, KorComm can expertly take the lead through the final stages of a sale cycle to closure.