Videos are certainly not new to the marketing world and will likely remain one of the most engaging marketing tools. Video services by Korcomm Creative Video Agency allows you to communicate with your audience and show them how your brand can benefit them while driving traffic to your website.
Videos are great for your business due to the extent of customizable and engaging information. Videos can show off new, improved or sale products, "how-to" demonstrations and more through a captivating message. Your videos can be strategically used in your email marketing campaigns, throughout social media, on your website and several other ways throughout your digital marketing repertoire. Videos have been proven to increase your website conversion rates, better explain your products and services, and lower your bounce rate.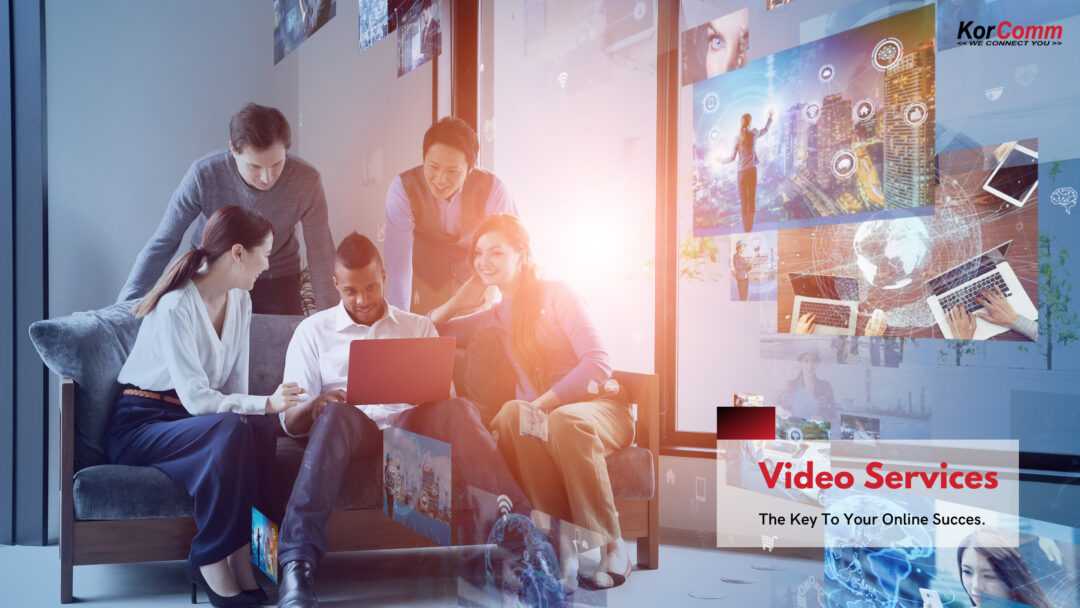 When properly implemented, utilizing videos in your marketing efforts builds trust and comfortability with your audience. Which in turn helps you build and maintain relationships with your consumers while increasing your bottom line.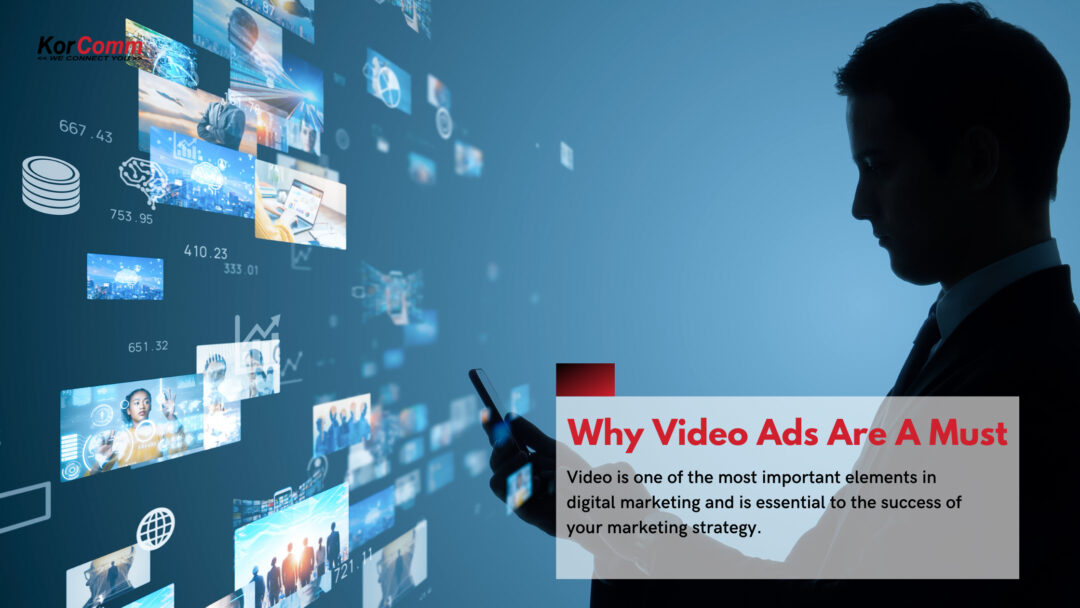 If a picture speaks 1000 words, what do you think a video is worth?
Video is one of the most important elements in digital marketing and is essential to the success of your marketing strategy. Your audience can be exposed to your brand from all angles, and you can get a direct message to them exactly how you want to. It works in tandem with other marketing collateral, such as blogs and social media to expand the reach of your brand while improving your SEO.
Video collateral is a vital part of creating a comprehensive strategy that can be applied to your business. By creating high-quality videos, you're effectively reaching out to the people you are targeting with your product. When consumers start to recognize your brand more, they are more likely to come to you with more business.
Why Videos Are Important For Social Media
Videos empower you to capture viewers' interest in just a few (very important) seconds.
Teaser Video Ads Kick Start Your Business
Teaser Video Ads range within 8-15 seconds and are strategically designed to capture your customers' attention. Your ad links back to your website and/or landing page which is where your products, services are further explained and ideally also where you will gather customer information.
Social media success is often attributed to the brevity of content and videos. It's important to be concise enough to leave viewers wanting more. These captivating video snippets are likely to be shared, especially when they're as informative as they are entertaining.
Remember, your followers are busy people, so you need to use their time wisely. Keep your follower's attention focused on your message especially on their mobile devices.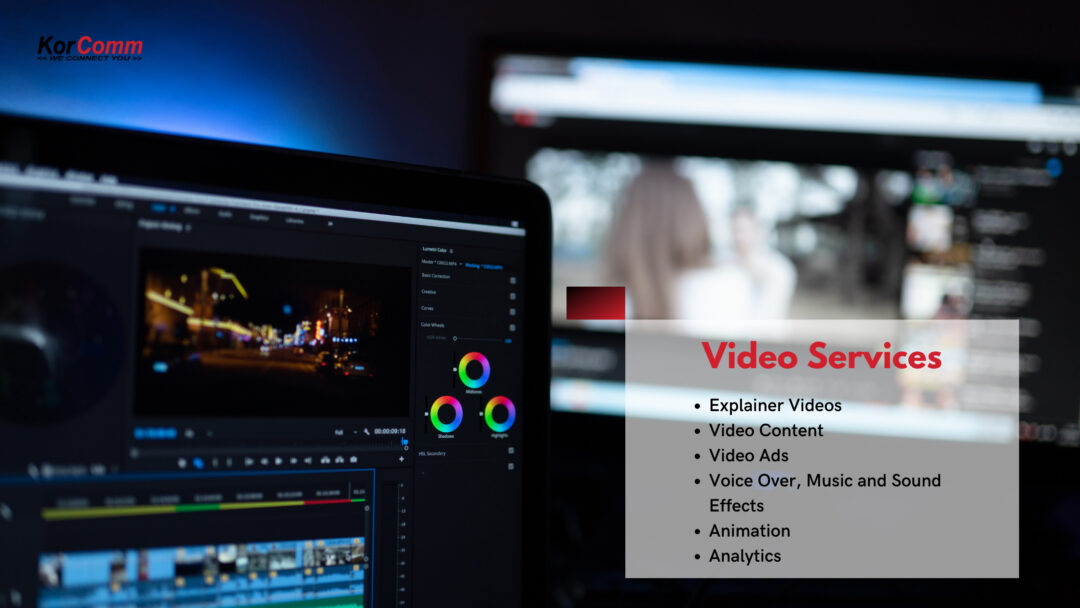 KorComm's team of video experts encourages all businesses to have a video component to their digital marketing. Explainer videos are a fantastic way to customize your message and relay it precisely how you want to your audience. These videos allow you to let your business brand truly connect with your audience on a personal level.
The goal for your video is to motivate a user toward your desired action such as driving traffic, purchasing products/services, sharing, etc.. This is done through being very specific in the language and animations used that communicates they'll know the call-to-action you're trying to get them to complete such as "for more information click here."
Producing compelling video content is a great way to attract people to your website who could eventually (and more than likely will) become customers. Think about the 'conversion funnel.' This is where your goal is to find new visitors then get them interested enough to follow through with a conversion. Explainer videos are a great way to capture your new, potential and current audience's attention and work them down the funnel toward being a loyal customer.
KorComm's professional and experienced team produces a top notch script your audience is sure to engage with. Our team meets with you to fully understand the message you want to relay and how you want it done. Our scripts execute your goals.
Voice Over, Music and Sound Effects
KorComm Creative Video Agency partners with the best of the best voiceover artists that embody the script your audience needs to resonate with your audience. We use studio quality music and state of the art sound effects to drive home the professionalism, personalization and overall best video presentation. Videos in marketing can help you amuse, explain or educate your audience on the topic of your product or service via sight and sound.
When it comes to animated videos, whiteboard animation is what allows your message to be completely customized and brought to life. It is important to note, whiteboard animations are done in-house. What does that mean? Zero need for real-life video production teams or any of the expenses that coincide with real-life videos.
With video tracking analytics, we are able to track data sets such as views, shares, likes and click through rates. All of which will then help us tweak and optimize our campaign strategies to ensure your campaign is at its best.
Implementing a video campaign that accurately reflects your brand is an effective and successful tool to aid in your company's digital marketing strategies.
KorComm is your one-stop shop for your company's video services. We understand you are busy running your business. Let KorComm support your business goals with expert video design services, from development, implementation and management.
In order for us to solve your business marketing needs, we need to understand your business, your goals, and your market space. Before we speak, we listen. And that's where we start… with you!
We offer a no-charge upfront consultation to get to know your business and provide a customized video service campaign plan with your goals in mind. We analyze, design and implement custom campaign videos including explainer videos to best fit your unique sales and marketing situation. Let KorComm Sales & Marketing Solutions step in to wake up your slumbering video services. Let's talk to explore your unique possibilities.
FAQs
Q: What do you offer for videography services?
A: We will record B-roll, edit, and finalize per your requests.
Q: Do you also offer drone videography services?
A: Yes, depending on the location.  Some areas require a license to operate a drone.
Q: If I wanted something recorded weekly, is that doable?
A: Sure!  We'll come to an agreement on what's needed.  Please call us for a quote.
Q: What equipment do you have for videography services?
A: Multiple cameras on tripods, lighting, gimble, microphones, etc.
Q: How long does it take to finish a video?
A: That depends on the number of edits, color adjustments, render time, etc.  Generally we say two weeks after the initial shoot.
<< We Connect You >>
Let KorComm help you grow your business by focusing on the follow up and final nurturing of your qualified digital marketing leads.
Once a lead has entered your funnel and showing signs of serious interest, KorComm can expertly take the lead through the final stages of a sale cycle to closure.