Building a website isn't as simple as just signing up for hosting. Trends change and if you want to stay ahead of the game, your site needs to be engaging, professional, and savvy. We know how challenging it can be to keep up with the latest trends in web design so that's why our team of trained web designers and developers help you along the way. We have years of experience and keep your budget in mind while creating an out-of-the-box website solution that best fits your needs!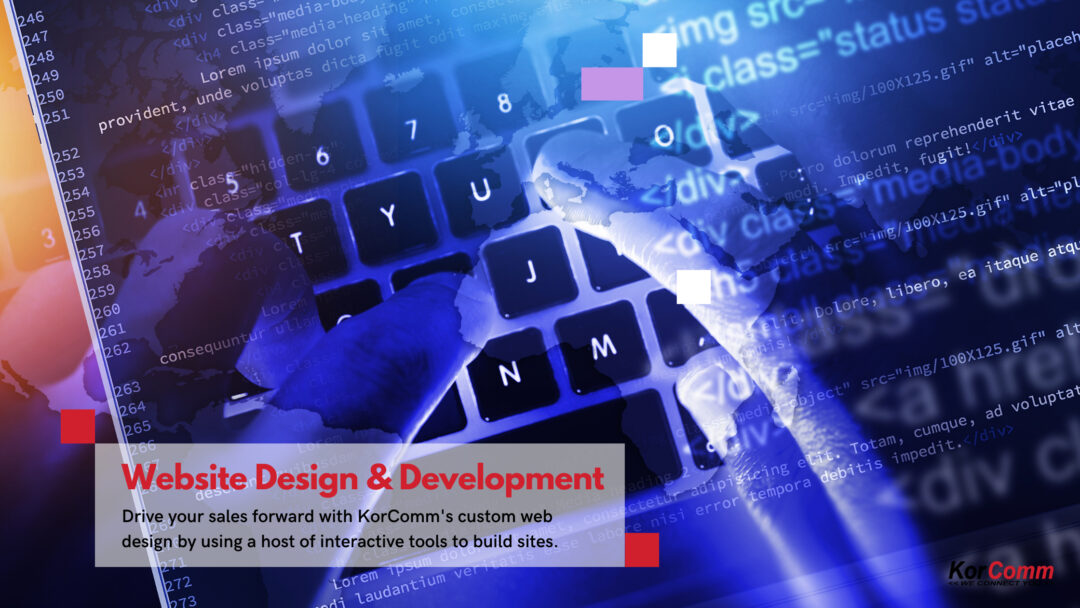 KorComm's web development team creates functional websites with innovative interactive features for businesses whether they're small, medium or large. KorComm provides custom web design by using a host of interactive tools to build sites that drive your sales forward. To get the most of your website and its potential in business, we'll provide the guidance necessary in order to get the best results out of your website investment. KorComm's unique advantage is that we specialize in each area of a website's functionality, not only designing it but also making it function as effectively as possible through our proven tips and tricks on SEO (search engine optimization) implementation.
Every client is unique, which means every company has an exclusive selling position that sets it apart from others. It's important to consider that your website design should reflect your marketing strategy and overall business goals. Having a well designed website will maximize your ability to reach the right audience and convert them into customers or subscribers. It is essential you choose a professional web development agency with strong branding experience to work on your project.
KorComm is a full-service advertising agency which offers a wide range of marketing services. We also have strategic brand principles in place to ensure our expertise is put toward helping companies achieve their online objectives as effectively and efficiently as possible.
Building a professional and secure website isn't easy. Our trained web developers bring years of experience to your project so you don't have to spend time developing a site that doesn't do the job. Our team knows what it takes to build an eye-catching, SEO-friendly, professional, and custom website specifically designed for your company or business. KorComm provides custom web design with effective interactive features for small, medium and large businesses who want an impressive and trustworthy online presence.
We work with you and your team to design a website layout that is intuitive while best representing your company's products and services. Our team uses a strategic combination of your brand's images and color scheme along with our own custom imagery to craft a custom web design that stands out within its category for what it has to offer within the scope of your company's industry.
As working professionals we understand the importance of establishing a cohesive experience through every aspect that contributes to building customer loyalty in order to grow business growth overtime.
With the constantly changing face of today's marketing, it is important your website work well with any screen size. We ensure this by providing web design services that will best fit whatever category your business may fall into in terms of products or services offered.
Our team of experienced web developers are experts at producing the best all-round user experience. They know how to execute an interface with pinpoint accuracy, creating a fluid and intuitive flow from page to page that puts the focus on each customer while also ensuring security, all while maintaining a database and training users on its usage. We create unique experiences for each and every client so they can see the difference in their bottom line.
The KorComm team has the knowledge, skills and experience in designing, building and maintaining custom websites. Over the last ten years, our team has created custom websites for a copious amount of companies throughout the Chicagoland area and beyond. We look forward to continuing to expand our portfolio.
If you already have a website, our team is here to help you get your website where you need it to be. We know there are many tools and applications to choose from when setting up an effective WordPress site which is why our web designers will analyze and determine the right apps for your site to support the growth of your business.
KorComm's team of in-house web developers create a custom built website that fits you and your business. KorComm stays up-to-date with changes in technology to keep your site running smoothly. Every website the KorComm team designs goes through extensive testing to ensure pages and links on your website are loading quickly and correctly.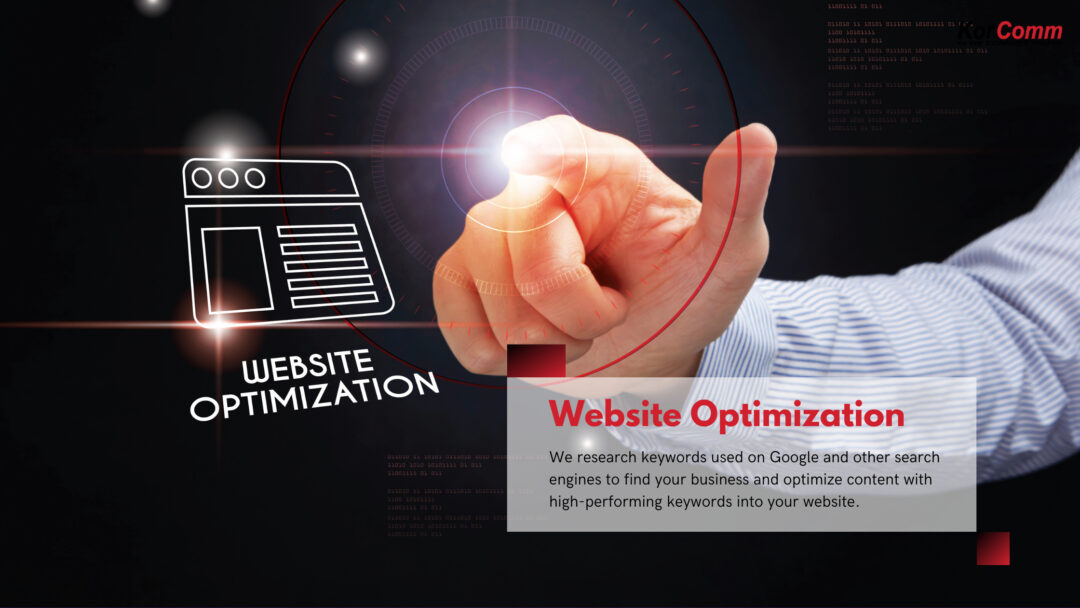 KorComm goes above and beyond to increase traffic on your website by using and implementing proper SEO and keyword research. We research keywords used on Google and other search engines to find your business and optimize content with high performing keywords into your website. This increases your website's SEO in which Google and search engines will then send potential customers to your site, leading to more quality page visits and an increased online reputation.
Ecommerce Websites – Made for Your Business
When selling products online, your ecommerce website must be able to provide your customers with 24/7/365 access, ease and security. With KorComm, our teams will work together to perfect your website's ecommerce customizations to best fit your specific online shopping needs for both you and your customers. You will have full access to the back of your ecommerce shop where you will have all the data and analytics of your online shop. Our teams will meet to go over how the backend works and provide training so if you want to make changes to your website you can.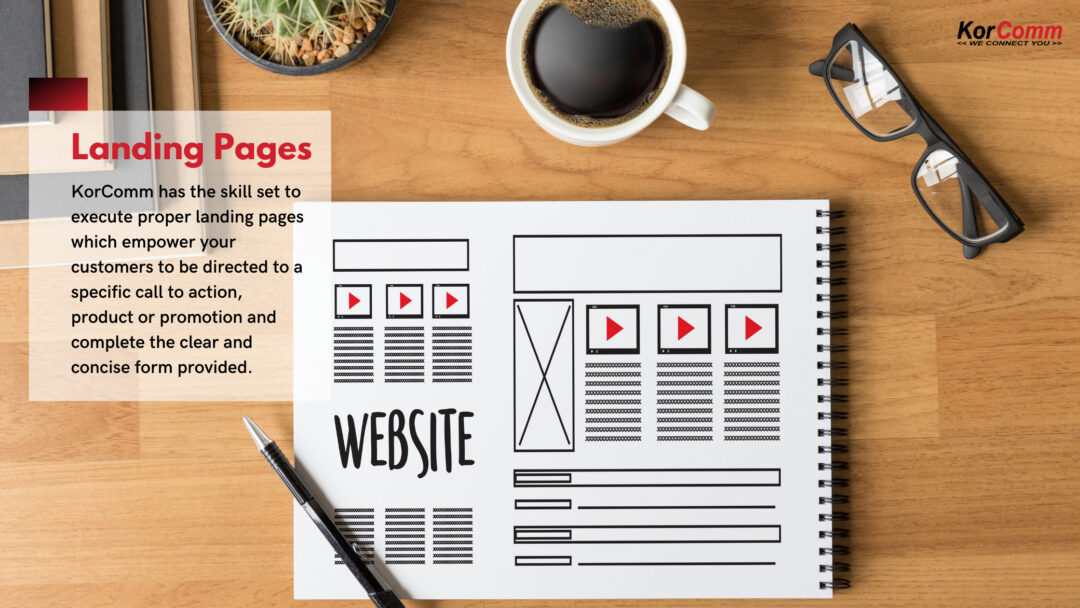 When KorComm designs landing pages, our goal is always to optimize your landing pages to improve total page performance. Landing pages are an exceptional way to drive website traffic, enhance your SEO and build trust in your brand by growing your customer base. KorComm has the skill set to execute proper landing pages which empower your customers to be directed to a specific call to action, product or promotion and complete the clear and concise form provided.
Landing pages are extremely useful and are essential to collecting your customers' data which you can use in other digital marketing aspects. The data gathered includes time spent, conversion rate, bounces and exits and number of leads generated from this page.
The KorComm team can help your business get a proper domain name that is short and memorable. The perfect domain name will empower you to establish and dominate your online presence while bringing credibility and trustworthiness to your business.
Acquiring and managing an ample domain name is crucial to an effective online reputation. Our team has years of experience with registering, renewing, transferring and managing, expiration protection and privacy services. Let us set your business up for success with proper domain name registration and management.
When choosing hosts, you must consider important things like speed, security, stability and also support. Hosting can be very expensive but there is good hosting that has great value! At KorComm, we pride ourselves in providing state-of-the-art web hosting which is reliable, secure with fast speeds so your customers don't have to get antsy (or leave) when waiting for your website pages to load. We deliver your pages fast so your audience will not only stick around for more but also share your site and tell others about it.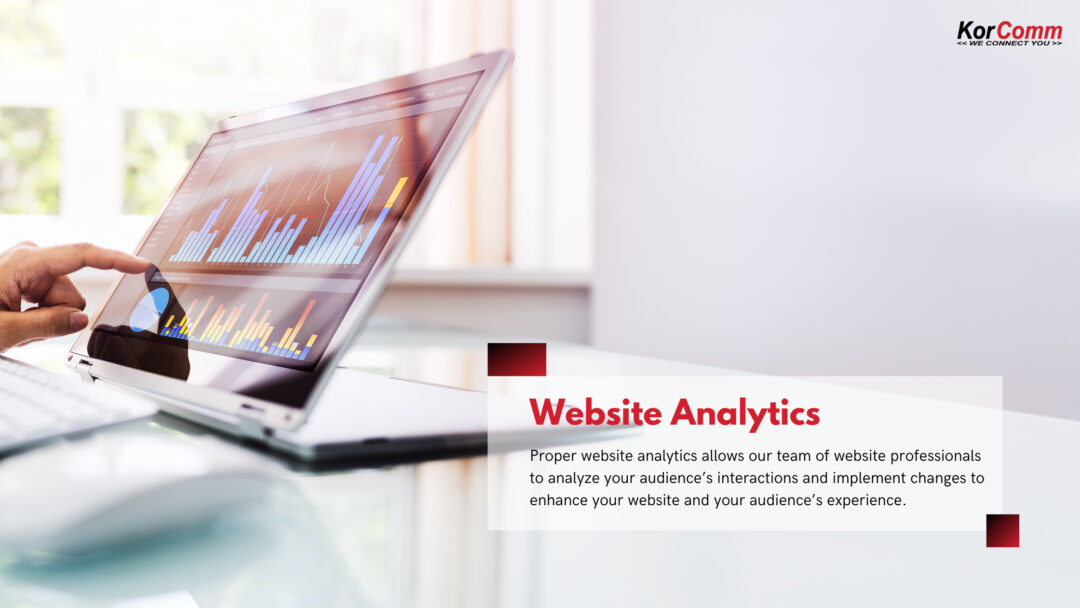 Knowing your audience and what actions they take on your website is crucial for your bottom line and overall success. With proper website analytics implemented this allows our team of website professionals to analyze your audience's interactions and implement changes to enhance your website and your audience's experience.
Website analytics share a wealth of insights including who is visiting, how they are getting there, what pages are most visited, which pages they most often leave your site from.
At KorComm, transparency is key. We share our analytic reports with you at the end of each month and talk through the data together. Our goal is to not only get your website to be seen but to ensure you are comfortable and confident knowing your website best represents your brand and business.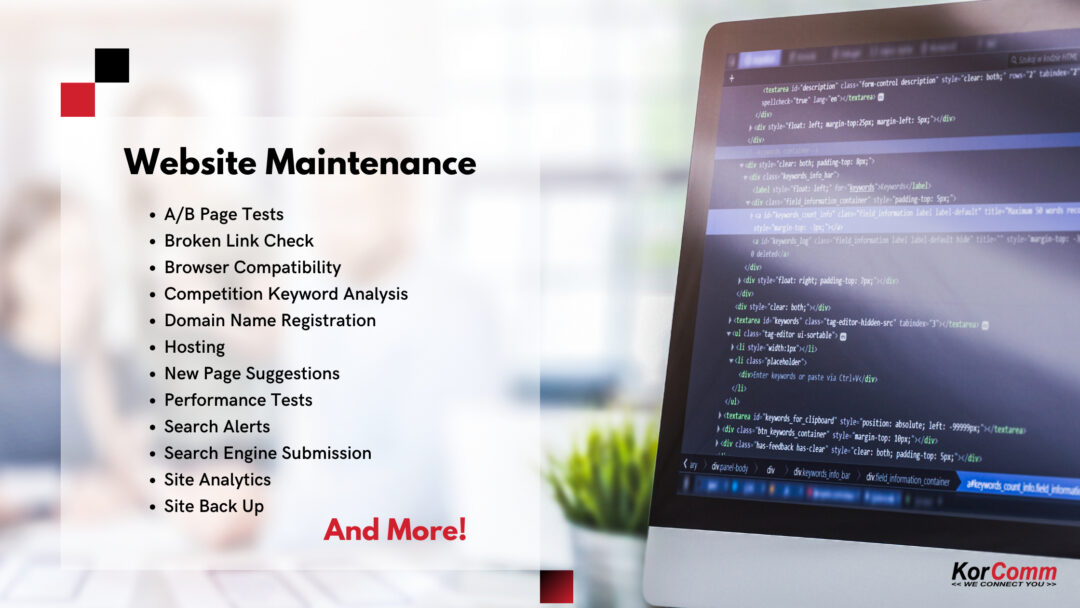 All websites have to undergo maintenance whether it be due to browser updates, internet rules changing or technological advances. At KorComm, we strategize to ensure your website is fully functioning by implementing updates and advances.
KorComm website optimization services are on the forefront of the ever changing technology trends which include but are not limited to:
A/B Page Tests
Broken Link Check
Browser Compatibility
Competition Keyword Analysis
Domain Name Registration
Hosting
New Page Suggestions
Performance Tests
Search Alerts
Search Engine Submission
Site Analytics
Site Back Up
And More
Having a website that properly reflects your brand is one of the most, if not the most effective and successful tool to aid in your company's digital marketing strategies.
KorComm is your one-stop shop for your company's website. We understand you are busy running your business. Let KorComm support your business goals with expert website design, development and management.
In order for us to solve your business marketing needs, we need to understand your business, your goals, and your market space. Before we speak, we listen. And that's where we start… with you!
We offer a no-charge upfront consultation to get to know your business and provide a customized website plan with your goals in mind. We analyze, design and implement custom websites to fit your unique sales and marketing situation. Let KorComm Sales & Marketing Solutions step in to wake up your slumbering website. Let's talk to explore your unique possibilities.
FAQs
Q: How long does it take to launch a new site?
A: Generally, the quicker we receive content and media from the client, the faster we can test and launch the site.
Q: If I only need a few pages here and there edited, can that be done?
A: Yes!  If you have that content/media ready to go, we request that info via Google Drive so everything is seamless.
Q: How much content do you require for pages?
A: This is a great question!  For Google's purposes (and to get ranked), we recommend at least 1,000 words.  The content must be informational, and it's best to break up the long text using buttons, images, video, etc.
Q: Do I need to have images or video on my page?
A: We highly recommend it.  Especially if you have large paragraphs or you meet Google's recommendation of 1,000 words or more.  We can also geotag your image(s), which allow Google to rank your media within it's 'image' tab.
Q: This all sounds great, but I run a store that sells physical goods.  Can I sell it online too?
A: Absolutely!  We can set you up with a store either via WordPress or Shopify.
Q: If I have sites I already like, can I send them to you?
A: Please.  This helps us speed up the initial design phase, and allows us to move on to the wireframe phase.
<< We Connect You >>
Let KorComm help you grow your business by focusing on the follow up and final nurturing of your qualified digital marketing leads.
Once a lead has entered your funnel and showing signs of serious interest, KorComm can expertly take the lead through the final stages of a sale cycle to closure.