Social media is ever-changing and is a low-cost, high-return form of advertising. Yet social media changes frequently and your company's social media needs to keep up with it in order to maintain correct and consistent exposure to captivate your audience and turn your viewers into consumers.
Advertising on social media allows you to target the consumers you are looking for. You, being the expert in understanding your business and ideal consumer, know exactly what type of person is likely to become a customer within your industry. When properly utilizing social media marketing, you have the tools to pinpoint your desired audience and target them directly on the social media platforms they use.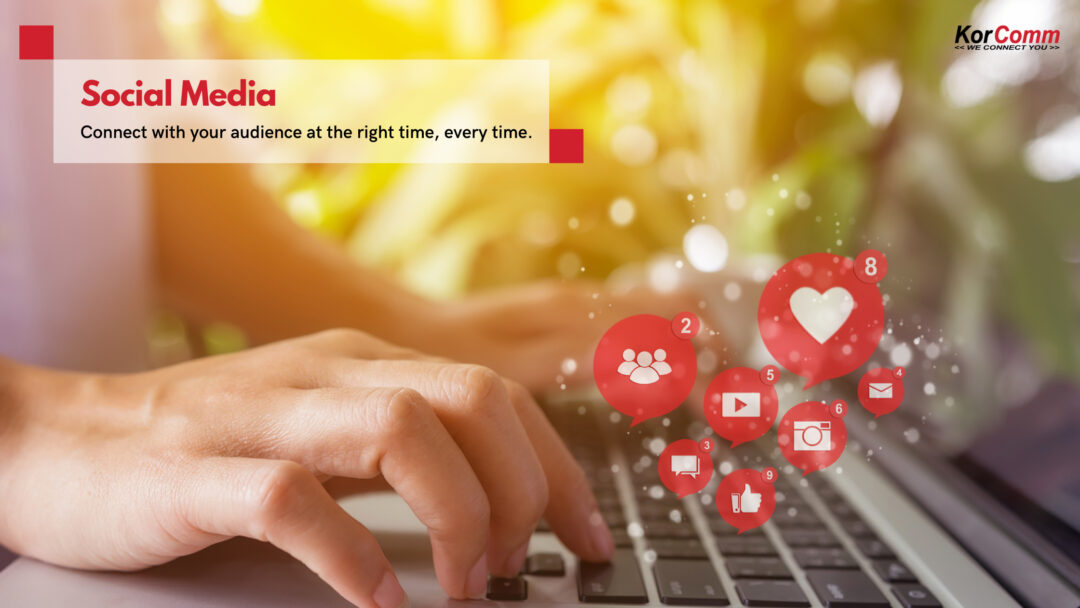 Connect with your audience at the right time, every time.
Expand your company's network, build your credibility, make connections, generate awareness, connect with new or existing customers in a deeper way and convert customers while boosting your bottom line with an effective and completely customizable SMM campaign.
Why Partner With A SMM Company
KorComm's social media management (SMM) process will make having an effective social media presence both easy and efficient. Depending on your industry, different social media platforms (Facebook, Twitter, LinkedIn, Instagram, TikTok, Pinterest, etc.) may be more beneficial. Our team will analyze and determine which platforms are best for your custom social media campaign. Our team will then create a custom SMM campaign plan to execute your marketing goals.
Professional social media marketing services can help you to effectively reach your best targeted market of social media users while you concentrate on growing your company through the products and services you provide. Proper SMM implementation strategically places the right content on the right platform(s) at the right time to capture the attention of your desired audience.
Investing in social media marketing services gives your business a proven strategy to access a larger number of local leads and customers for boosting revenue, profits and ROI.
The KorComm team will construct a custom comprehensive, compelling and intuitive SMM strategy to develop and/or refresh your unique brand voice. We will create, implement and manage your social media content and campaigns.
From the beginning, you will have access to your campaign metrics through our custom dashboard. Here you will see your campaign data in real time! Also, at the end of each month we will provide a comprehensive SMM report we review together. This monthly report entails thorough details on how your campaign is performing.
KorComm's Real Time SMM Campaign Dashboard Allows You To:
Effectively measure Social Media Marketing (SMM) efforts for all your locations
Gather key insights
Monitor your brand
Track brand mentions with specific keywords and phrases
Track campaign funds
Track your real time social media presence and overall campaign data
View aggregate and location-specific social media mentions
View key campaign metrics and optimization recommendations
Our full-service approach is what allows us to deliver provable, trackable and measurable campaign results through engaging posts to gain more social media click throughs, comments, conversions, clicks, downloads, engagement, followers, impressions, likes, views and more.
Our custom SMM campaigns are executed through a variety of tactics which include but are not limited to creative development and content creation, collecting data in a CRM and setup of email sequences, creating contact form(s), creating landing page(s), creating lead submission form(s), creating social media lead form(s), established source tracking and reporting, laser targeted audience outreach, animated video production / embedding and more.
KorComm's social media marketing services begin with an analysis of your business and marketing needs. We create powerful and keyword optimized social media profiles that best fit your company within your industry, company goals and objectives as well as budget. We concentrate on building and maintaining an audience that is best suited to engage with your campaign and turn into your customers.
From the very beginning, our team of dedicated professionals manage your social media campaign 24/7/365. We build measurable campaigns and surpass SMM goals through posting images, video and content; responding to comments and replies; and increasing engagement, converting followers and more. We stay on top of all social media interactions and engagement to ensure the best campaign results for your custom SMM campaign. Our team manages and optimizes your campaign from kick off to completion ensuring your targeted audience is being reached effectively and efficiently.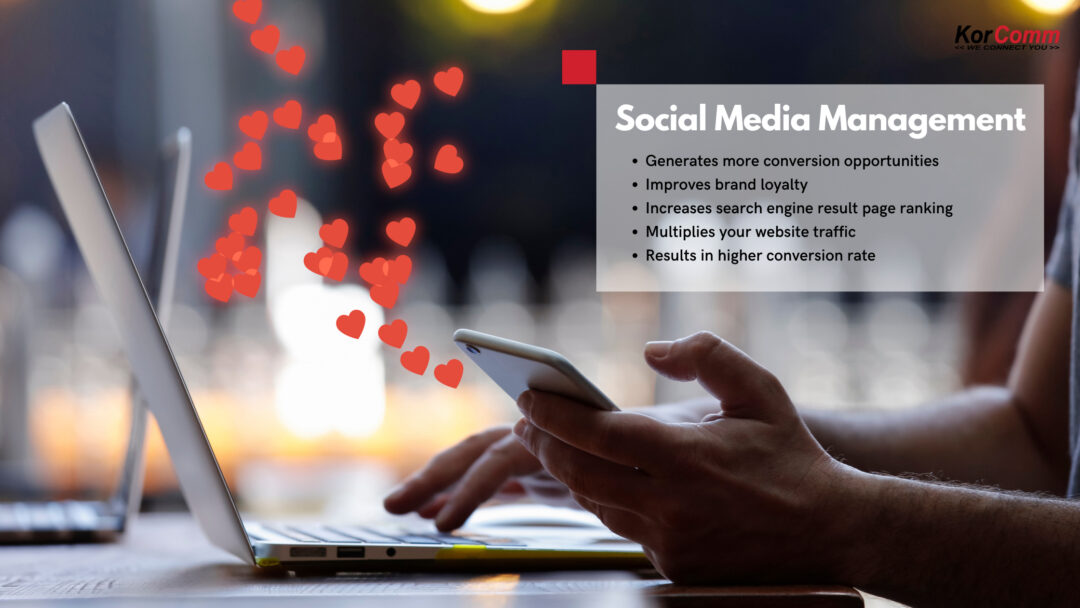 KorComm's Social Media Management:
Generates more conversion opportunities
Improves brand loyalty
Increases search engine result page ranking
Multiplies your website traffic
Results in higher conversion rate
Creating Brand New Social Media Strategies
Our social media marketing services focus on developing and maintaining social media strategies that best aid in supporting your business goals. By partnering with KorComm, we incorporate our best campaign practices into your custom campaign. Our team stays on top of and adapts to the everchanging changes in SMM to ensure your campaign is performing at its best at all times.
Our skills, experience and innovative strategies help our clients by targeting their ideal customers, and generating quality leads who convert into loyal customers.
KorComm's Social Media Management Service Platforms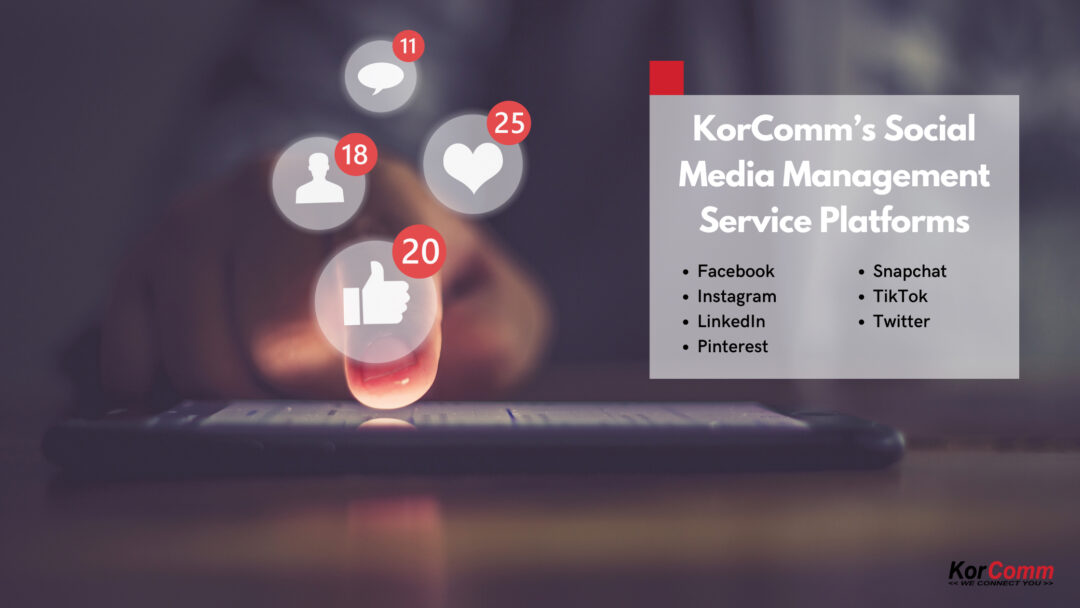 Social media is one of the most effective and successful tools to aid in your company's digital marketing strategies.
KorComm is your one-stop shop for comprehensive SMM solutions, we deliver measurable social media campaign results time and time again. We understand you are busy running your business. Let KorComm support your business goals with expert social media management reinforcement.
In order for us to solve your business marketing needs, we need to understand your business, your goals, and your market space. Before we speak, we listen. And that's where we start… with you!
We offer a no-charge upfront consultation to get to know your business and provide a customized SMM plan with your goals in mind. We analyze, design and implement custom SMM campaigns to fit your unique sales and marketing situation. Let KorComm Sales & Marketing Solutions step in to wake up your slumbering SMM. Let's talk to explore your unique possibilities.
FAQs
Q: What exactly is social media management
A: It means our team of experts will not only post content on your behalf, but we'll manage and respond to comments, 'like' and 'follow' other accounts, and ensure your profile(s) have every field filled in.
Q: What content will you post on my behalf?
A: Generally, videos or eye-catching graphics. We tend to steer away from 'selling', and focus more on educational posts and content that will entice interaction (likes/follows/shares).
Q: How many accounts can you manage at one time?
A: As long as we have access, the number of platforms is limitless.  Generally people stick with Facebook, Instagram, Twitter, LinkedIn, and Pinterest.
Q: How often do you publish content?
A: We aim to publish 3-5 times each week.  That can be adjusted based on your preferences.  We have some clients who post once a week, and others who post daily.
Q: How do you track your posts?  Can I track them too?
A: We create a calendar within Google Drive, and yes we'll share that calendar with you.  This calendar will be color-coded, and one tab dedicated to each month.
<< We Connect You >>
Let KorComm help you grow your business by focusing on the follow up and final nurturing of your qualified digital marketing leads.
Once a lead has entered your funnel and showing signs of serious interest, KorComm can expertly take the lead through the final stages of a sale cycle to closure.