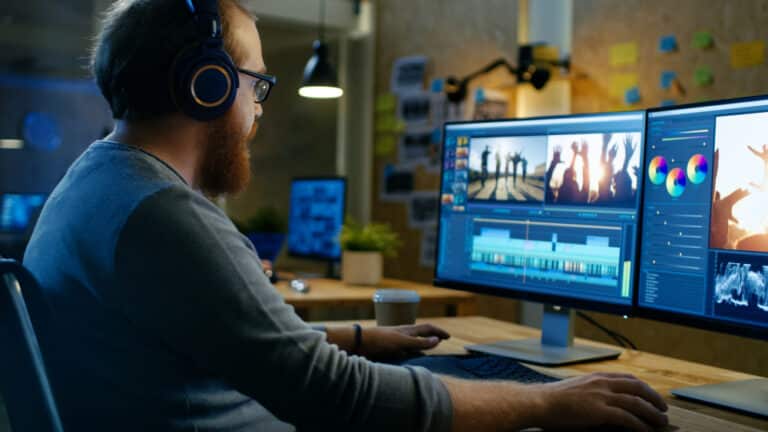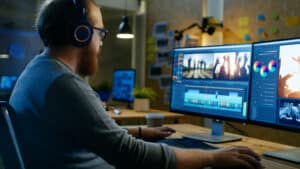 Video editing isn't a choice of brand awareness and promotion. It's a necessity! Whether you're a small business owner or an entrepreneur, leveraging video content can help to market your product or services more effectively. Over 240 million internet users in the U.S. alone enjoy watching video content regularly. Video editing is a lead generation channel, accounting for over 65% of qualified leads every year. For brands, it's essential to consider the potential of video services to gain an edge over their competition.
What is Video Editing?
Video editing focuses on creating and distributing content via video, usually as an advertisement or commercial. Visual content can communicate a company's message, generate brand awareness, and increase customer engagement. KorComm's video editing services allow businesses to connect with their target audiences. Contact us at 224-227-3371 to learn more about video editing for your brand.
Why Use Video Editing?
Videos are a powerful tool that can help to establish brand identity, create meaningful connections with customers, drive website traffic, increase lead generation, and achieve better sales results. By investing in professional video content creation, businesses can create an impactful message, captivate their audience, and increase brand awareness.
The Benefits of Video Editing Services
You're not alone if you're considering adding professional videos to your website or social media posts. Over 80% of businesses are utilizing them to reach more customers. KorComm's video editing services help companies maximize their video content's benefits. Here are just a few of the advantages:
Enhanced Brand Awareness:
Businesses can reach a larger audience with solid visuals and interesting content. Video editing and promotion can help businesses attract customers and become more visible. It can also help to create a robust and memorable impression on the minds of customers and prospects.
Reach New Audiences:
Video editing allows businesses to reach potential customers and partners beyond their current network, AND look good. Using video content can help you target new audiences and expand your reach. For example, if viewers who prefer visuals over text discover your content, they may become regular viewers and potential buyers.
Higher Engagement Rates:
Videos are more engaging and enjoyable than text-based content. They're more likely to be watched by potential customers, making them ideal for building relationships with an audience. With the additional reach, businesses can gain more leads and conversions.
Increased Conversion Rates:
Video content is an effective way to showcase products, services, and features in an engaging manner. This can help to increase conversion rates and generate more qualified leads. Research shows 8 out of 10 people have purchased software or an app after watching a brand's video. Get ahead of the competition and leverage the power of video editing services for your business—the rewards are bountiful!
Contact KorComm today. We have the video editing expertise and resources to help your business achieve its goals.
Expanded Website Traffic:
Videos can help to increase website traffic by being shared across multiple channels, such as YouTube, social media, and other websites. This can lead to more brand awareness and higher website rankings on search engines.
Improved SEO:
Video content helps boost SEO rankings and can help businesses appear at the top of search engine results. Many marketers make use of videos in their SEO strategies to improve visibility and drive organic traffic. The best marketing strategy uses organic and paid video services for maximum visibility. Your plan must include high-quality videos, premium images, expert content, and targeted keywords.
Boost Social Media Impact: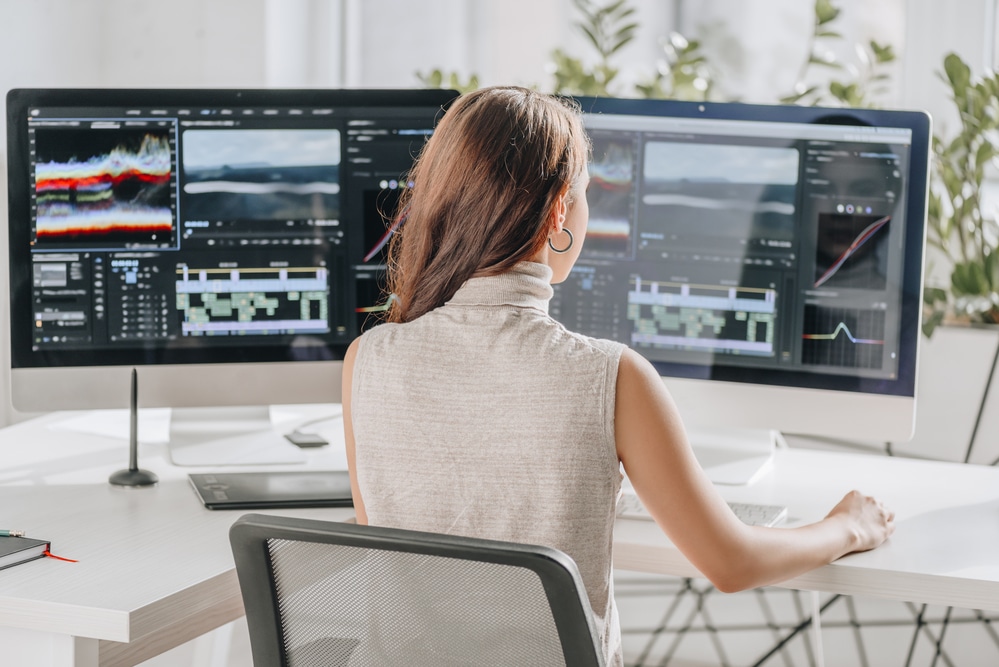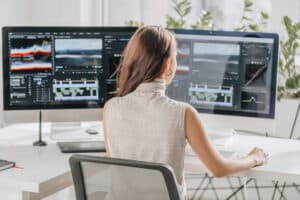 Editing services can help businesses effectively increase their reach and engagement on social media. Videos are more likely to be shared than text-based content, resulting in greater visibility for the brand. Additionally, they can generate higher levels of interaction from viewers, making them ideal for building relationships with an audience. We recommend combining social media management and video services for the best results.
At KorComm, our editing services can help businesses reach their goals. We specialize in crafting the perfect message and developing creative visuals that capture audiences' attention and drive engagement. Our team of experienced professionals will create unique, high-quality videos for your brand.
We Can Help You Maximize Your Video Editing Results
KorComm offers a full suite of video editing services tailored to your brand's needs. Our services include:
High-quality video production: Professional video production ensures that we deliver your message in the best possible way. Using the latest technologies and techniques, we can help you create engaging videos that stand out from the competition. We have a team of experienced professionals who can create high-quality videos for your website, social media channels, and other platforms.

Creative concept development: We develop innovative concepts to create unique videos that capture people's attention. From scriptwriting to storyboarding and production, our team of experts will help you create a video that engages your audience and drives results.

Video optimization: Our video optimization services help to ensure that we optimize your videos for search engines and social media. We use the latest strategies to ensure that your videos reach the right audience and generate maximum engagement.

Professional editing: Our experienced editors will ensure that your videos are of the highest quality. We use professional editing software and techniques to create stunning visuals for your video content.

Scriptwriting and storyboarding: Our team of expert scriptwriters and storyboard artists will help you create a compelling video for your business. From concept development to scripting and storyboarding, we'll ensure your video is engaging and effective.
These services are just a few ways that KorComm can help you maximize your video editing results. The right services can help businesses reach their goals and establish a powerful online presence.
Video editing is one of the most effective tools for creating brand awareness and driving website traffic. With KorComm's video editing services, businesses can reach their customers and prospects and build lasting relationships.
Contact us at 224-227-3371 to learn more about our video editing service and how we can help you reach your goals!